Low Back Pain & Spinal Stenosis
Most cases of lower back pain can be linked to a general cause—such as muscle strain, injury, or overuse—or can be attributed to a specific condition of the spine, most commonly:
Herniated Disc
Degenerative Disc Disease
Spondylolisthesis
Spinal Stenosis
Osteoarthritis
A number of less common conditions can cause low back pain as well, such as sacroiliac joint dysfunction, spinal tumors, fibromyalgia, and piriformis syndrome.
Common Symptoms of Lower Back Problems
Low back pain is typically characterized by a combination of the following symptoms:
Dull, aching pain. Pain that remains within the low back (axial pain) is usually described as dull and aching rather than burning, stinging, or sharp. This kind of pain can be accompanied by mild or severe muscle spasms, limited mobility, and aches in the hips and pelvis.
Pain that travels to the buttocks, legs, and feet. Sometimes low back pain includes a sharp, stinging, tingling or numb sensation that moves down the thighs and into the low legs and feet, also called sciatica. Sciatica is caused by irritation of the sciatic nerve, and is usually only felt on one side of the body.
Pain that is worse after prolonged sitting. Sitting puts pressure on the discs, causing low back pain to worsen after sitting for long periods of time. Walking and stretching can alleviate low back pain quickly, but returning to a sitting position may cause symptoms to return.
Pain that feels better when changing positions. Depending on the underlying cause of pain, some positions will be more comfortable than others. For example, with spinal stenosis walking normally may be difficult and painful, but leaning forward onto something, such as a shopping cart, may reduce pain. How symptoms change with shifting positions can help identify the source of pain.
Pain that is worse after waking up and better after moving around. Many who experience low back pain report symptoms that are worse first thing in the morning. After getting up and moving around, however, symptoms are relieved. Pain in the morning is due to stiffness caused by long periods of rest, decreased blood flow with sleep, and possibly the quality of mattress and pillows used.
Of course, there are other ways people experience low back pain. Low back pain varies on an individual level, and many factors influence the pain experience, including mental and emotional health, financial stress, or exercise and activity level.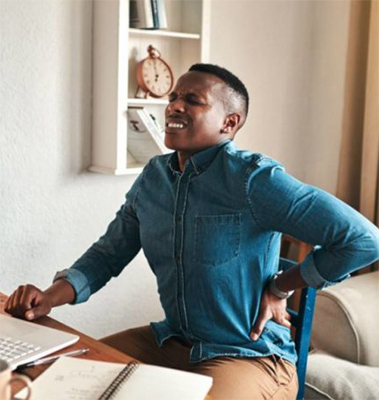 Spinal Stenosis
In the medical field, stenosis means the abnormal narrowing of a body channel. When combined with the word spinal, it defines a narrowing of the bone channel occupied by the spinal nerves or the spinal cord.
Some people are born with a congenital form, but most develop spinal stenosis as part of the degenerative cascade. A few do not feel any effects of the narrowing, but as part of the aging process, most people will eventually notice radiating pain, weakness, and/or numbness secondary to the compression of the nerves or spinal cord.
While the narrowing may occur at different parts of the spine, the symptoms of nerve compression are often similar. That is why specialists often will perform testing to determine the cause and location of the narrowing.